Emergency Pediatric Dentist — Hillsboro, OR
Fast Care for Hurting Smiles!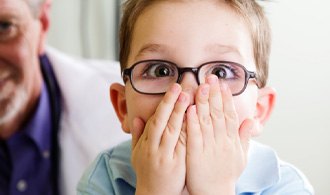 No one expects a dental emergency, but they occur more often than you may think. Especially for children! Would you know what to do if your child suddenly broke or knocked out a tooth? Or if they woke up in tears because of a searing toothache? The most important thing to do is get in touch with our team right away! Your Hillsboro emergency pediatric dentist Dr. Michael Royse offers gentle and fast care for hurting smiles when your family needs it most. We do everything we can to see patients for same-day emergency appointments, so don't hesitate to contact us right away!
Why Choose The Dentists At Orenco For Kids for Emergency Pediatric Dental Care?
#1 Same-Day Emergency Appointments Available for Prompt Care
#2 Emergency Pediatric Dentist with Decades of Experience
#3 Calming Sedation Available for Optimal Comfort
What to Do in a Dental Emergency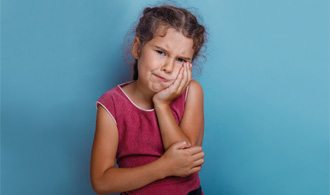 First, take a deep breath and stay calm. Your child will respond to your reaction, so it's important to do your best to keep a level head! Fortunately, with our team in your corner, all you have to do is follow these easy steps:
Step 1: Call our office. Call us right away so we can schedule you for a same-day emergency appointment and walk you through how to handle your child's dental emergency until you reach us.
Step 2: See Dr. Royse right away. Royse will evaluate your little one right away, providing any necessary pain relief as quickly as possible. Then, he'll review his findings with you, explain your treatment options, and work with you to create a plan of action that's best for your child.
Step 3: Get your child the care they need! As soon as a treatment plan has been created, our talented team will jump into action. We'll always prioritize your child's comfort and safety while we repair their teeth. Before you know it, they'll be enjoying a happy, healthy, and pain-free smile once again!
The Most Common Pediatric Dental Emergencies
Children's dental emergencies come in all shapes and sizes. Sometimes they're obvious, such as if your child is in tears with a painful, broken, or knocked-out tooth. However, sometimes you may be wondering if your child's symptoms require urgent attention, such as lingering tooth sensitivity or a chipped tooth. Regardless of the situation, we encourage you to call us so we can help you determine how soon your child needs to be seen. Below, you'll find some important information about a few of the most common children's dental emergencies we treat.
Understanding the Cost of Treating Pediatric Dental Emergencies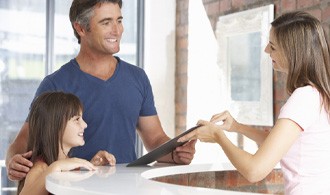 Just as no two precious smiles are exactly alike, neither are any two children's dental emergencies. As such, there isn't a set price for children's emergency dental care. Thankfully, emergency exams themselves are relatively inexpensive, and we'll always give you an estimate for any treatments we recommend for addressing your child's emergency. We'll also make sure your dental insurance is being maximized and help you file your insurance claims. Below, you'll learn more about how we can help you fit the cost of emergency dentistry in Hillsboro into your budget.
Every Pediatric Dental Emergency Is Different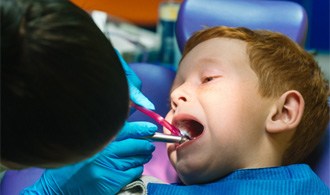 Since every case is unique, it's impossible to predict the overall cost of emergency dentistry in Hillsboro until your child comes in for an exam. Our team will perform an oral examination to determine the root of the problem. In some cases, the situation can be quickly addressed with inexpensive solutions like fillings or prescription mouthwash. However, severe emergencies may need more complex treatments like extractions or root canal therapy. Those services usually come with additional associated costs like tooth-replacement options and custom-made crowns. Rest assured – we'll thoroughly explain your treatment options and their costs before moving forward with the process.
Does Dental Insurance Cover Pediatric Dental Emergencies?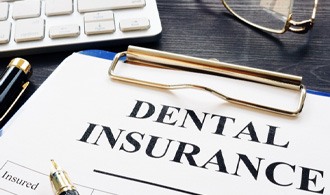 You'll be happy to know that most dental insurance plans offer some form of coverage for emergency dentistry in Hillsboro. Typically, at least one annual emergency exam is fully covered while most common services associated with hurting teeth (i.e., root canal therapy, crowns, extractions) can receive partial coverage. Of course, every plan is unique, which is why you should confirm the details of your coverage with an insurance provider before committing to anything. If needed, our team can help with this process.
Taking Care of Your Smile Can Save Your Money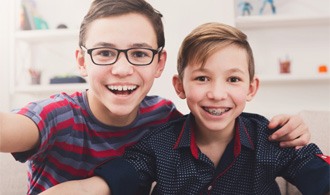 Not every dental emergency is avoidable, but there are many precautions your child can take to avoid these urgent situations. Regular dental visits, a healthy diet, and a solid at-home oral hygiene routine will help your little one's pearly whites stay in optimal condition. With these practices, you can potentially save thousands of dollars over the years. Also, taking care of a problem right away can help your child avoid needing more complex and expensive procedures down the line. Getting early treatment for your child's tooth can make the difference between needing root canal therapy and an extraction.
How to Prevent Pediatric Dental Emergencies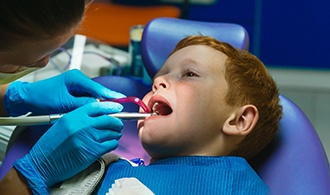 You can count on a dentist to treat your child's dental emergency. Even so, however, it's better if they don't need urgent oral care at all. Not only is the latter scenario less of a hassle, but it also saves you time and money in the long run. Luckily, The Dentists at Orenco for Kids can help: use the practices below to prevent pediatric dental emergencies in Hillsboro. Of course, don't hesitate to book a visit if your tyke still suffers an oral crisis!
Have Your Child Get Twice-Yearly Dental Checkups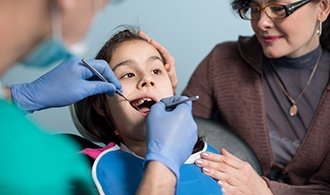 Dental checkups can prevent pediatric oral emergencies just as they do with adult varieties. The visits let dentists spot and stop mouth problems very early. As a result, your child's minor tooth issue won't get out of hand and develop into something serious.
For the best effect, your youngster should start doing twice-yearly checkups once they're one year old. Delaying their first visit any longer could lead to severe dental problems.
Practice Good Dental Habits at Home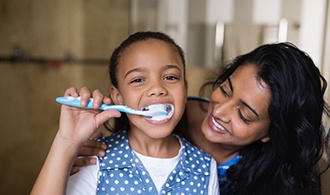 Whether you're a kid or an adult, daily brushing and flossing reduce the risk of dental emergencies. The habits remove plaque, bacteria, and other particles that cause oral problems. In that respect, good oral hygiene makes you less likely to develop cavities, gum disease, or worse.
Ideally, your child should start brushing and flossing their teeth by around age five. Just make sure they only use a tiny amount of fluoridated toothpaste. Furthermore, consider giving them flossers or other aids to make flossing easier.
Be Careful with Your Child's Diet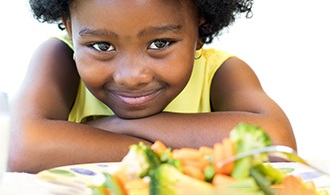 As it happens, kids are especially prone to cavities. That's only natural in today's world – so many carb-heavy snacks and sugary fruit drinks are on offer. Eaten to excess, such items can really erode enamel and weaken teeth.
Given these facts, one way for kids to avoid a dental emergency is to eat a "smile-friendly" diet. Lean proteins, dairy products, and crisp veggies have many nutrients that strengthen teeth.
Protect Their Pearly Whites with a Mouthguard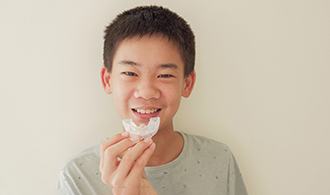 If your child is athletic, they can be at serious risk of dental injury. Accidents often happen in sporting events, and many sports don't require proper safety equipment. The consequence is that a collision or fall could chip or even knock out their teeth.
Fortunately, you can always get your child a sports mouthguard. This dentist-made appliance would protect their pearly whites from external forces.
Remember: Teeth Aren't Tools!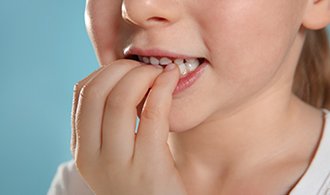 Kids – especially really little ones – get into all sorts of mischief. At times, that means they might chew or bite things they really shouldn't. Unfortunately, this habit might lead them to chip a tooth or cut their mouth.
To prevent a dental emergency, then, make sure your kids aren't using their teeth as tools. The only thing they should bite are (relatively) soft foods, not toys or packages!
Pediatric Dental Emergency FAQs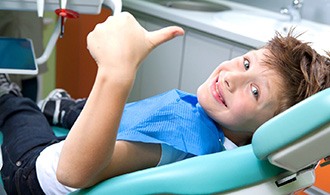 Is your child experiencing a dental emergency in Hillsboro? If so, you're probably looking for an emergency dentist who can provide immediate attention. At our practice, we're ready to offer safe and effective care when your child needs it most. Our team understands you may have several questions about our emergency dental care, which is why we've decided to answer some frequently asked questions below. Should you not see the answers you're looking for, feel free to give us a call for personal assistance.
Should I Take My Child to the Emergency Room First for Dental Emergencies?
Most emergency rooms are not able to effectively treat dental emergencies, mainly because there's usually no licensed dental professional on staff. If your child is experiencing a dental emergency, you should make an appointment with our emergency dentist in Hillsboro. Our team will act quickly to get your little one's smile back on the right track. You should only take your child to the nearest ER if they have a serious cut or laceration to the face, difficulty breathing, a fractured or broken jawbone, uncontrollable bleeding, or are unable to swallow.
What Does Throbbing Tooth Pain Mean?
More often than not, this is a sign of an infection or inflammation within the tooth. When a cavity inside the tooth allows air and bacteria to reach the sensitive inner portion, it results in irritation and the potential infection of the pulp nerves. There are some instances where throbbing teeth are merely due to chronic teeth grinding and clenching.
Are Knocked-Out Baby Teeth a Dental Emergency?
Since baby teeth are meant to come out, you may be wondering if it's even considered an emergency when they get knocked out. If they come out prematurely, you should schedule an exam with a pediatric dentist in Hillsboro to ensure no damage has occurred. Permanent teeth can erupt too early if a baby tooth comes out too soon. If your child has uncontrollable bleeding or you think they damaged their jaw, you should take them to the emergency room as soon as you can.
What Should I Keep in My Emergency Dentistry Kit?
It's always best to be prepared for the unexpected, which is why you should carry an emergency dentistry kit with you at all times. Make sure it contains the following essentials:
Small storage container for teeth or restorations
Sterile gloves (ideally nitrile)
Gauze pads and dressings
Cotton balls
Dental cement or another temporary filling material
Petroleum jelly
A topical anesthetic like Orajel
Dental floss
Ice pack
Your pediatric emergency dentist's contact information