Special Needs Dentistry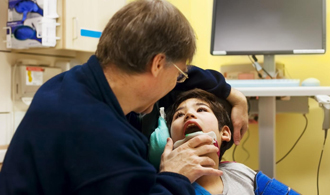 The Dentists at Orenco for Kids knows that every young patient we see has a unique set of oral health care needs. We take the time to get to know each of our patients, and our dedicated team works hard to to deliver gentle, attentive dentistry services that are as unique as your child's smile. Additionally, we have the training, experience, and tools necessary to provide safe and effective dentistry services for those Hillsboro dental patients considered in need of special health care needs as defined by the American Academy of Pediatric Dentistry, which includes patients with physical, emotional, cognitive, and behavioral concerns as well as kids with oral or facial developmental disorders.
Care for Children with Special Health Care Needs
Our team has a passion for helping patients. While that passion may be more apparent when applied to patients with special health care needs, we truly take the same time to get to know every one we treat and their unique set of needs. Parents of kids with special health care needs are often made to feel like they are "putting the dentist out," and we think this is a shame. Our knowledgeable and friendly team truly want to help every patient receive the same high level of dental care.
Your Child's First Special Needs Dentistry Appointment with Our Team
The first time you bring your child with special health care needs to our office, we begin with a get-to-know you assessment. The dentist will talk to you and your child one-on-one, answer questions, and determine what a safe and effective dental treatment plan will entail. Additionally, we will likely want to coordinate our efforts with your child's other physicians, so we'll collect a thorough health care background from you. If you and your child both feel comfortable, we will capture x-rays, examine the the oral and facial structures, and complete a professional teeth cleaning at this time. When necessary, we can wait to begin actual treatment either after your child has had some time to adjust to the office or when we are able to use dental sedation. Every patient receives a dental treatment plan as unique as they are.
At-Home Dental Care for Patients with Special Health Care Needs
If you ever need help with at-home hygiene products or practices, please let our team know. We will put our knowledge to work helping you find the right toothbrushes, toothpastes, and other oral hygiene tools to make caring for your child's smile at-home a breeze. We can also demonstrate the best methods for brushing and flossing, and help your child learn to care for his or her own teeth as well.
The Role of Sedation
Our goal is to create a dental home for you and your child. We believe that every patient deserves to be completely comfortable and that dental care should not be a stressful, scary, or painful experience for anyone. If your child with special health care needs is unable to safely receive dental care without unnecessary pain or fear, we recommend some form of sedative. We begin by taking the time to learn your child's unique set of needs, so we can help children adjust to receiving necessary treatment. However, as is the case with any child or adult, sedation dentistry is an effective tool that helps us offer the best possible care.