Safe, Effective Hillsboro Sedation Dentistry for Kids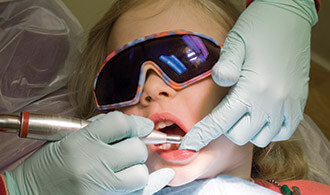 Every year, millions of US adults report skipping dental visits due to fear or anxiety, and if adults who fully understand their necessary dental care are fearful of the dentist, kids who don't always completely comprehend dentistry treatment are even more susceptible to these feelings. In some cases, kids not understanding what is happening to them can be very dangerous as they may fight the dentist leading to potential damage. That's why we sometimes recommend sedation dentistry services to keep kids calm and safe throughout even the most advanced dental care.
General Anesthesia
Most dental practices are unable to offer general anesthesia which renders patients fully unconscious. This treatment needs to be performed under the supervision of an anesthesiologist or certified dental anesthesia specialist. For adults, general anesthesia is rarely necessary as milder sedatives are typically adequate. However, for some kids who need extensive treatment, who have sensitive teeth, and those who have behavioral, cognitive, or physical impairments that make treatment without sedation unsafe, general anesthesia may be the safest treatment solution. If we determine your child is in need of anesthesia to safely complete treatment, we will arrange treatment with Dr. Brandon Kearbey or a local hospital in order to ensure your child's safety throughout even the most complex procedures. Typically administered via IV, general anesthesia allows your child to rest peacefully as we perform difficult procedures keeping them safe and pain free from start to finish.
Nitrous Oxide
Nitrous oxide is the longest used and most popular sedation option for kids and adults. This sedative quickly takes effective and wears off and we're able to quickly and easily adjust dosage throughout treatment. We place a comfortable nasal mask of your child's nose, and as they inhale through the nose, kids quickly feel relaxed and sensitivity and discomfort are reduced. If kids begin to fidget or experience pain, we can quickly increase the dosage improving numbness and comfort almost instantly. Best of all, children go back to normal relatively quickly following nitrous oxide sedation. In most cases, kids can even go back to school or other activities the same day they are treated. If your child struggles to stay calm during dental care or needs a little extra help becoming numb, we're happy to offer nitrous oxide sedation from the comfort of our Hillsboro dental office.