Trusted Pediatric Dentist in Hillsboro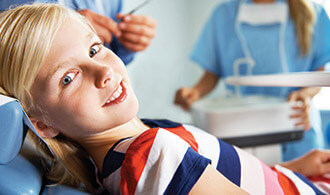 A common question patients have asked Drs. Brandon and Malinda Kearbey at The Dentists at Orenco Station is whether or not children need to visit a pediatric dentistry specialist. We always recommend bringing children to visit Dr. Michael Royse, our board certified pediatric dentist at The Dentists at Orenco for Kids. At our practice, we're proud to offer advanced pediatric dentistry services from a skilled children's dentistry specialist to offer kids a seamless transition from children's dentistry to adult dental care all within the same dental practice and working with the same staff. Instead of having to completely transition to a different dentists' office around the age of 11 or 12, when adult teeth are fully developed, your child can stay with the same practice simply shifting to one of our general dentists at the appropriate age. Contact The Dentists at Orenco for Kids to find out more about pediatric dentistry or to schedule your child's first appointment.
Dentistry Services for Developing Smiles
One of the most important things to remember about dental care is that every smile is different regardless of the age or stage of dental development. We've prided ourselves on offering personalized treatment planning for our patients for years. That hasn't changed when it comes to caring for kids. We take time to talk with children and determine their level of understanding when it comes to oral hygiene. We're happy to help them develop better oral hygiene routines, repair dental decay or damage, and keep their smiles whole and healthy for life. Some of the treatment options we offer that are specifically geared toward younger patients include:
Patient education – we take the time to review brushing and flossing practices with kids to make sure they're caring for their teeth, and we can help them learn more effective methods of keeping their smiles clean
Dental sealants – a clear plastic coating over teeth, sealants are quickly and painlessly applied as part of any regular dental checkup and create a barrier between teeth and potentially harmful plaque and bacteria
Fluoride treatments – a fortifying treatment option that helps rebuild the strength and density of tooth enamel, fluoride treatments can be applied during dental checkups to protect teeth from being decayed or damaged in the course of daily wear and tear
Sedation dentistry – millions of US adults report avoiding dental appointments due to fear or anxiety, so it's likely no surprise that kids experience the same emotions we offer nitrous oxide and full general anesthesia to safely and painlessly provide your child necessary dental care
Your Child's Five Star Experience
We've always promised our patients three things: to provide care that exceeded expectations, to use the most advanced techniques and technologies to improve or expand our treatment options, and be active and supportive members of our community. That's our promise to all patients in order to provide a five star dental experience, and that's our promise to your child as well. Dr. Michael Royse has years of training and education in offering dental treatment that meets children's unique oral health and behavioral needs ensuring your little one creates positive associations with the dentist. Don't hesitate to contact our Hillsboro dentists and team to find out more or schedule an appointment.