Hillsboro Children's Dental Care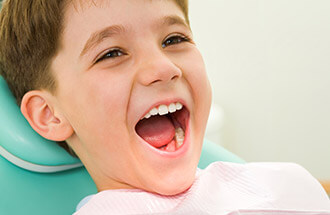 In Hillsboro, OR, patients have trusted the dedicated Dentists at Orenco Station team with their smiles for years, and we're well known for offering a five star dentistry experience. Now, we're proud to offer the same advanced, comprehensive dental care for your most precious smiles at The Dentists at Orenco for Kids. With this addition, we're able to offer the highest quality care for your little ones in the same state-of-the-art dental practice your family enjoys.
With Dr. Brandon and Dr. Malinda's advanced training in caring for the specific oral health and behavioral needs of kids, we're able to offer dental services geared toward helping kids achieve and maintain their healthiest smiles for life. Some of the pediatric dentistry services we'll offer include dental sealants, fluoride treatments, and oral health education to help kids develop good at-home hygiene practices. We're also happy to offer young athletes custom crafted sportsguards to protect their smiles. In order to ensure maximal safety and comfort for young patients, we offer both mild nitrous oxide sedation and full general anesthesia.
Unlike traditional pediatric practices, your child will be able to make a smooth transition from pediatric care into comprehensive dental care for their permanent smiles. This makes caring for your children's oral health seamless from the eruption of their first teeth to the development of their complete, adult smiles. Contact our friendly team to find out more or schedule an appointment today.