Pediatric Dental Services Near Forest Grove, OR
Helping Young Smiles Grow Healthy and Strong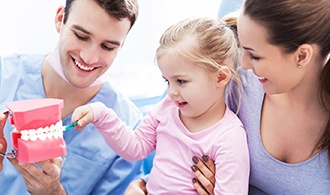 As a pediatric dentist near Forest Grove, OR, Dr. Brandon Kearbey is pleased to offer his patients a wide array of comprehensive services, each designed to improve your child's teeth and gums as they grow and develop. Because young smiles require careful attention and treatment, he and his team at The Dentists at Orenco for Kids will offer a personalized approach blended with compassionate care. From general checkups and cleanings to tooth-colored fillings and even emergency dentistry, you can count on us to be there for your little one as their smiles transition into childhood, adolescence, and eventually, adulthood. Contact us today to schedule an appointment, and let our team take your child's smile to the next level.
Children's Dental Checkups & Cleanings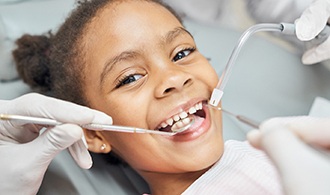 Regular dental checkups and cleanings are important components to opatimal oral health. Young smiles are prone to cavity development because of the manual dexterity that comes with brushing and flossing at an early age. However, by ensuring proper oral habits are practiced at home as well as allowing our team to perform professional checkups and cleanings, we can ensure the health and longevity of their smile. We will check for signs of decay, gum disease, bad breath, and monitor their bite development. We'll also remove hardened plaque and tartar to prevent gum pockets from forming and give your child a final polish for a refreshing, beautiful smile.
Dental Sealants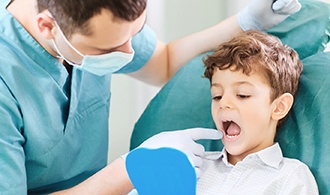 Your child's molars and premolars can be hard to reach when brushing. As a result, the chewing surfaces can become inhabited by harmful bacteria and food particles. Because of the pits and grooves found in these teeth, they make for an ideal location for cavities to form. To protect these areas, our team can apply dental sealants. This plastic, clear coating takes only minutes to apply and is virtually painless. Not only will it create a barrier to prevent bacteria from penetrating the enamel, but it will also strengthen these teeth and can remain firmly in place for a decade or longer (with proper care).
Fluoride Treatments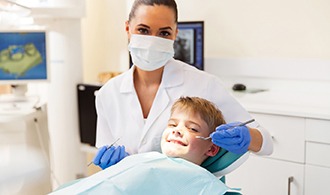 Fluoride is a natural mineral that is extremely effective at combatting tooth decay and strengthening enamel. If your little one is prone to cavities or you would simply like to avoid the potential for decay from the start, we can quickly administer fluoride treatments during their regular dental checkups and cleanings. This topical therapy will help to better protect their growing and developing teeth, but we encourage all parents to discuss the necessity of fluoride with our team to ensure your little one isn't getting too much exposure early on.
Mouthguards & Sportsguards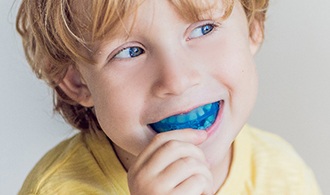 Does your child enjoy playing sports? If so, you'll want to make sure their smile is protected against hard falls, tackles, and potential flying objects! Sports-related dental injuries are quite common throughout childhood and adolescence, which is why your child's pediatric dentist near Forest Grove will be happy to have a customized mouthguard created to properly fit and protect your child's smile. Unlike mass-produced oral devices, these are created based on impressions taken of their teeth to ensure a comfortable fit when worn.
Tooth-Colored Fillings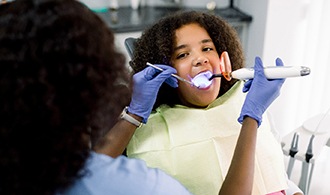 When a cavity develops, there is only one way to stop the spread of decay and prevent the need for more extensive restorative dentistry – tooth-colored fillings. Once plaque penetrates the tooth enamel, a small hole will form known as a cavity. Using color-matched composite resin, which is a malleable substance, our team can easily clear away the decayed portions of your child's tooth before filling it with the resin. This will not only create a tight seal to reduce the risk of future bacteria penetrating the tooth, but it will also blend in to match the rest of your child's natural smile.
Emergency Dentistry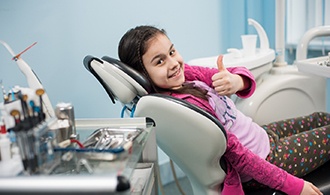 Has your child suddenly developed a serious toothache? Did they knock out a tooth while riding their bike? Dental emergencies are common at this age, but fortunately, the team at The Dentists at Orenco for Kids offers immediate assistance when your child needs it most. While the type of treatment will vary depending on the severity of the case, you can count on us to deliver timely care, a gentle touch, and effective, long-lasting results.