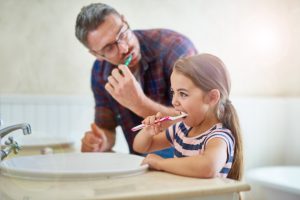 Just like eating vegetables or taking a bath, children aren't too fond of brushing their teeth. In most cases, this task is usually downright ignored or resisted. Does this have you concerned for your little one's oral health? You should be! A solid dental routine is important to establish at a young age to combat tooth decay and cavities. Not to mention, your child will most likely develop a lifetime of good oral hygiene. Your children's dentist in Hillsboro has developed a list of fun, helpful tips to get your kids to enjoy brushing their teeth.
1.    Let your kids choose their own brushing tools.
As a parent, you want to make this process as enjoyable as possible for both you and your child. By letting your son or daughter get involved in the process from beginning to end, even from purchasing their personal tooth brush and choosing their preferred flavor of toothpaste, they will most likely be more intrigued. Let your children choose their own kiddy toothpaste that's enriched with fluoride for your little one's baby teeth.
2.    Show your child how to brush by example.
After all, you are your child's biggest influence. By placing them right next to you in the mirror to brush your teeth rather than sitting them on the toilet, they will feel more grown up. Brushing your teeth will become more of a family activity to them compared to a chore.
3.    Sing or hum a song together.
It's important that you're instructing your children on how long they should be brushing their teeth (two minutes). A good way to measure this is with music. You can create a light, fun atmosphere while massaging your teeth and gums by humming the alphabet song!
4.    Show proper techniques on a stuffed animal.
Your son or daughter most likely has a favorite toy that he or she brings with them everywhere, right? By practicing proper techniques on their favorite stuffed animal, your little one will have the opportunity to feel connected with the cleaning process. You can even have them practice on their toy themselves. They're most likely to stay engaged when they're learning while playing with something they care about.
5.    Compliment and/or reward them.
As with any other habit you want to encourage, praising your kids during and after the task is completed is probably the best way to reinforce it. Especially when they complete the task correctly! For instance, if your child consistently brushes his or her teeth for two weeks straight, consider a later bedtime as a reward!
If your child is still resisting the idea of brushing their teeth, don't be afraid to ask for help. Your pediatric dentist in Hillsboro is comfortable explaining the importance of brushing their teeth to children. Sometimes, just hearing the same information from another person outside of the family they're super comfortable with can help. Unfortunately, sometimes kids just want to listen to their parents! Give us a call to set up your child's dental checkup today.