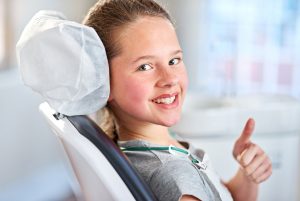 Did you know that 1 in 6 Americans suffers from dental anxiety, including children? And, did you know that your premier children's sedation dentist can help with kids who can't sit still, as well as youngsters with special needs. At Dentists at Orenco for Kids, we pride ourselves on being the most respected sedation dentist for kids by offering effective treatment that keeps your children safe. Learn more about our options – and just how safe they are – in this post.
What Sedation Dentistry Methods Do You Offer For Children?
Before we discuss the safety of each option, Dr. Brandon Kearby, Dr. Michael Royse, and Dr. Malinda Kearby want to explain the two different methods of sedation dentistry available for your child:
Nitrous Oxide – By simply wearing a mask and inhaling this sweet, odorless gas, your child will feel relaxed in a just a moment. Nitrous oxide method is by far the most researched method and is safe for kids. Also known as laughing gas, this is an excellent choice because the effects wear off within few minutes after the flow of the medication is topped.
General Anesthesia – Children who have numerous dental needs that require complex and lengthy treatment, kids with extreme tooth sensitivity, or patients who have special needs can benefit from general anesthesia. In these instances, we will perform the necessary dental procedures at a local hospital – keeping the environment controlled and lowering the risks of complications. While your child is completely asleep, we will take care of their smile.
Is Sedation Dentistry Safe For Kids?
Under the care of trained experts like those on our staff, sedation dentistry is safe for kids. With any procedure, there are always risks, and we like to make sure our young patients are in good health before utilizing relaxant medications. Let us know about any medical conditions, current prescription medications, and allergies or bad reactions – having a complete medical history will make the process safer for your son or daughter.
What Are The After Effects Of Sedation Dentistry?
Kids can sometimes be confused – especially after receiving laughing gas. When awakening from general anesthesia, it is common for kids to feel the same sort of confusion, as well as fussiness or nausea. With this method, your child will need to stay home from school or daycare after the procedure. We also like to have two adults accompany your child to the appointment – one to drive and the other to keep an eye your child as they recuperate.
Now that you know that our sedation methods are safe for kids, you don't have to avoid dental treatment anymore and put their smiles at risk. Schedule your appointment with Dentists at Orenco for Kids today!