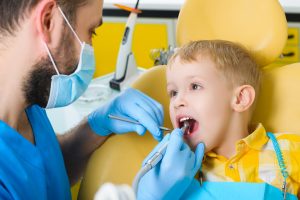 As a parent, you do everything you can to ensure that your child develops and maintains a healthy smile. You promote proper oral hygiene habits at home and take them to their pediatric dentist in Hillsboro every six months for a cleaning and checkup. Despite your best efforts to protect their teeth, you cannot prepare for dental emergencies, like a knocked-out tooth. When your child suffers an injury to the mouth that results in the loss of a tooth, you need to see an emergency dentist right away—even if it was a baby tooth. At The Dentists at Orenco for Kids, we are always here for your family, even when the unexpected occurs.

Help! My Child Had a Tooth Knocked Out
Rough play and sports can lead to a tooth being knocked out. When it is a baby tooth, it may not seem like a serious issue because it will fall out in the future anyway. However, losing one before it is ready can result in complications, which is why it is important to visit the dentist.
If it broke below the gum line and was not fully knocked out, the root may still be in place, which will need to be removed. In addition, each tooth plays a vital role in developing oral functions that are necessary for eating and speaking correctly. The gap could cause issues in these areas. As a result, it is best to have the dentist reattach the tooth to prevent further complications.
In addition, losing a tooth before it is ready to come out can lead to overcrowding in the empty space as the new teeth try to erupt. If it cannot be reattached, your child may need a spacer to help the permanent tooth emerge in the correct position when it is time.
No matter if it is a primary or permanent tooth, you need to react quickly. Pick it up by the crown and rinse it with water. Be careful not to touch the root. Do not use any cleaners, scrub it, or dry it. After it is clean, gently try to reinsert it back into the socket. If you are successful, have your child bite on a piece of gauze to prevent it from moving. If you cannot put it back in, place it in a cup of milk or water. You need to keep it moist because if it dries out, the success for reattachment will decrease.
Protect Your Child's Smile
Although you can never fully prevent an injury that may result in a lost tooth, there are certain things you can do to help reduce the severity of the injury. If your child participates in sports, it is essential that they wear an athletic mouthguard, which are available from your children's dentist in Hillsboro.
At The Dentists at Orenco for Kids, we want to help promote the health and development of your child's teeth. If a dental emergency occurs, contact our office right away for a same-day appointment. We look forward to helping you create a beautiful smile that lasts for a lifetime.