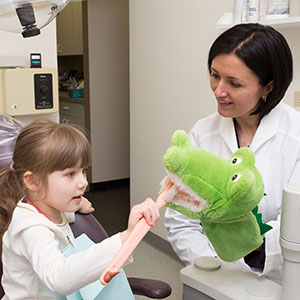 Many people trust the oral health of their children to a general dentist, but for some kids, visiting a pediatric dentistry practice is a better experience. Before you decide what the best option is for your family, take a few moments to read through this blog. We'll discuss some of the reasons a pediatric dentist can ensure a lifetime of healthy smiles for your kids.

General Dentists vs Children's Dentists
A general dentist has years of training and experience working with smiles, but caring for children takes a unique set of skills. From understanding how to communicate with kids to providing gentle, detail-oriented treatments for tiny, developing teeth, pediatric dental care is an intricate, complicated form of dentistry. While general dentists are technically qualified to care for children's smiles, we believe in the benefit of pediatric dentistry to ensure every child learns to love visiting the dentist. Some of the benefits of taking your child to see a pediatric dentistry specialist include:
Create lifelong health – by establishing an in-office and at-home dental care routine at a young age, kids are much more likely to keep their natural teeth for life
Enjoy visiting the dentist – pediatric dental offices are decorated and outfitted to be appealing to kids with fun games, toys, and treats that keep kids smiling
Feel safe and have fun – a kid-centered dental office is much more welcoming and comfortable for young patients and helps children build positive associations with the dentist and avoid feeling anxious about dental care in the future
Experience & Training Working with Developing Smiles
Dr. Michael Royse has completed advanced training in order to provide specialized dentistry for your little ones. A pediatric dentist has not only finished the necessary education to earn a doctoral degree in dentistry, but they have completed one or more additional years of training as part of a pediatric residency program. Dr. Royse has years of experience working with kids in need of basic dental care to the most advanced procedures. He's even worked in hospital settings to treat young patients who need surgical intervention. Don't hesitate to ask Dr. Royse about his training and expertise next time you visit. He'll be happy to answer any question you or your child may have.
Comfort and Convenience for All Ages in One Location
The Dentists at Orenco for Kids offers general dentistry and pediatric specialty care in just one, convenient location. The Dentists at Orenco Station welcome adult patients, and kids can receive the ideal pediatric dental care in the same facility. Contact us to find out more or schedule an appointment with our Hillsboro dentist and team. We also encourage local parents to stay up to date by visiting our dental blog each month. We'll share information about some of the latest in dental services and community involvement.