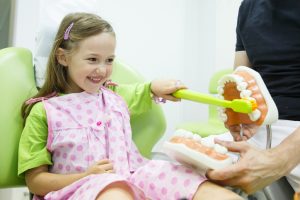 Your children's smiles are important to their confidence and quality of life as they age. To ensure they develop healthy teeth and gums, you strive to promote positive oral hygiene habits. However, if they do not have a professional cleaning and checkup every six months, they are missing a key aspect to their dental health. Unfortunately, the cost of dentistry can make it difficult for your children to see their dentist regularly. To help ease any financial burden, we are proud to be a Delta Dental dentist in Hillsboro. The Dentists at Orenco for Kids will help to set the foundation needed to foster dental health through compassionate and affordable care.

Affordable Care for Children
Everyone over the age of two needs to see their dentist in Hillsboro twice a year for preventive care. With a regular cleaning, you will help to ward off gum disease and tooth decay. In addition, a checkup monitors their oral health to prevent future dental problems. By doing so, you will reduce the risk for costly or invasive treatments that may be needed in the future.
While preventive care is vital to the health of your teeth and gums, more than 100 million Americans did not see their dentist last year, many of which were children. Among the leading cause is due to the cost of services. To help keep dentistry affordable, we are proud to be in-network for Delta Dental. We will help you maximize your benefits to keep out-of-pocket costs to a minimum.
Your Delta Dental Dentist
Delta Dental is among the leading providers for dental insurance, covering more than 74 million enrollees. By utilizing your benefits, your children's routine appointments are often covered in full. This not only includes cleanings and checkups, but x-rays and other preventive treatments as well, such as dental sealants. In addition, you can save an average of 50%-80% on additional procedures depending on your exact policy. As an in-network dentist, we will save you the most because we have pre-negotiated rates with the insurance company.
It can be confusing trying to figure out which services are covered under your policy. To maximize the value of your benefits, we will help you understand your coverage. We will work on your behalf to file the necessary claims for reimbursement. If there is ever an area that is not covered by your insurance, we will discuss different treatments and payment options to promote your children's dental health.
Choose an In-Network Dentist
The Dentists at Orenco for Kids understands that the cost of dental care often causes you to delay dental appointments because raising a family can be expensive. We do not want to see you need to make this difficult decision. We will help you keep the cost of services within your budget to foster the health and development of your family's smiles.
Choose your in-network Delta Dental dentist to be by your family's side. Contact our office today to schedule a consultation.