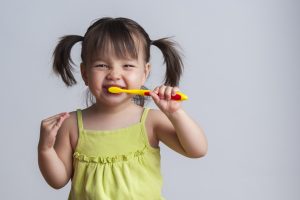 Do you dread the daily battle of brushing your child's teeth? They probably do too! If the bathroom has turned into a war zone, here are a few helpful tips for making brushing more fun for both you and your child.
Choose the Right Tools
There are so many entertaining toothbrushes (some even sing), and toothpastes of all colors and flavors available these days for kids. Let your child choose the their favorite toothpaste, or try a brush with their favorite character on it.
There are also many "smart" toothbrushes that interact with your child or allow them to play games while they brush. They also act as a timer to ensure that they are brushing for the full-recommended two minutes.
Lead By Example
Let your child watch you brush your own teeth, or try brushing together. When they see you brushing for two minutes and leading by example, they will want to follow suit.
Create a Chart
Make a fun chart that your child can use to record their brushing accomplishments for a week. Let them put a sticker on the chart for each successful day of brushing and give them a small reward at the end of the week such as choosing a fun activity to do with the family.
Timed Brushing?
Is your child brushing too fast? Are they reaching all of their teeth? A timer can make a game out of brushing for two minutes. Use an egg timer, and give your child a star on their chart each time they complete full two minutes.
Stick to a Routine
Once you have a good brushing routine established with your child, be sure not to deviate even if it's been a long day or you're on vacation. Making brushing their teeth a top priority teaches your child good habits for their future.
Regular visits to your pediatric dentist also help keep your child's teeth healthy and also keeps them motivated to take good care of their oral health. They should be seeing their dentist every six months just like you do in order to monitor their oral health and development.
About the Author
The Dentists at Orenco for Kids provides comprehensive and friendly pediatric services with your child's comfort in mind. Dr. Michael C. Royse is our pediatric specialist who loves building relationships with children and educating them about the importance of their oral health. We even offer sedation options that will help fearful children get the treatment they need in a comfortable and pleasant manner.
Would you like to contact The Dentists at Orenco for Kids? We can be reached through our website, or by calling 503-747-5930.