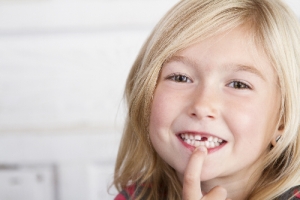 Every parent looks forward to their child's first loose tooth. It is an exciting milestone as the tooth fairy will be making their first visit. However, sometimes it can seem like an eternity as it just seems to linger in place. To help it fall out, you may be tempted to pull it out, but your dentist will advise against it. Instead, it is time to ask yourself, "where is a pediatric dentist near me?" Choose a dentist who caters to children to foster the development of their smile.

Don't Pull Out Baby Teeth
As your child reaches about six years old, the roots of their front teeth will start to dissolve. As this occurs, they will become loose, allowing your child to wiggle back and forth. When they have dissolved enough, they will completely fall out without any pain or discomfort. Over the next few weeks, the permanent ones will erupt to fill the spaces.
In many homes, it is tradition to pull out the child's first loose tooth. Whether your tie it to a string and door knob or have another creative idea in mind, it is best to skip this common ritual. Teeth will naturally fall out on their own when they are ready. If you pull the tooth too soon the root may not be properly dissolved. This can damage the sensitive tissue. In addition, you increase the risk for infection, bleeding, and pain.
What If the Tooth Won't Fall Out?
If it has been several months and the tooth just will not seem to fall out, it is time to call your pediatric dentist in Hillsboro. Your pediatric dentist will evaluate it and take diagnostic images to access the root and its current position. Depending on the results of the examination, your dentist may suggest leaving it in place for a while longer or may recommend having it extracted.
Promote Your Child's Dental Health
In most cases, you have nothing to fear when your child starts to lose their baby teeth. The majority will fall out on their own without any complications; however, if you are concerned, do not hesitate to contact your dentist.
In addition, if your child is complaining of pain or you notice any redness, it is best to call your dentist to have the tooth examined. They can put your worries to ease while ensuring that your child is not experiencing a complication.
About The Dentists at Orenco for Kids
The Dentists at Orenco for Kids is a local dental office that caters to children. We provide exceptional care in a compassionate environment to nurture the oral health of young smiles. Our kid-friendly office is dedicated to providing personalized solutions for each child to promote and maintain the health of their teeth and gums through all stages of development. If you need a caring dental team by your side to help foster the young smiles in your family, contact our office today to schedule a consultation.