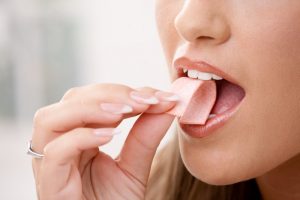 Are you looking for an easy way to help your child boost their performance in school without an expensive tutor? According to researchers at Cardiff University in Wales, gum chewing can improve cognitive areas of the brain.
Your dentist in Hillsboro believes this could be an effective way to aid your child's concentration and cognitive abilities. Keep reading to learn the details of the study.
An Overview of the Study
Published in the British Journal of Psychology, the study observed 38 participants undergoing a short-term audio memory test. After instructing half the participants to begin chewing gum, they were asked to listen to a list of numbers from 1-9 read in random order.
Participants were scored based on their ability to recognize sequences of odd-even-odd numbers (i.e. 7-4-3) and scored based on their accuracy and speed. They were also asked to describe their mood after the test. The researchers found that those who chewed gum had quicker reaction times and more accurate results. It's also worth noting that towards the beginning of the test, those not chewing gum did better. However, as the test got towards the end, those chewing gum surpassed their controlled colleagues.
The Oral Health Benefits of Chewing Gum
According to the American Dental Association's consumer website, chewing sugarless gum for 20 minutes after meals can help prevent tooth decay. While doing this should never act as a substitute for brushing and flossing, its benefits are multi-pronged.
Chewing sugarless gum also increases saliva flow; this helps to neutralize acids in the mouth produced by bacteria as well as wash away food debris. Your saliva actually contains calcium and phosphate which can strengthen tooth enamel.
Which Gum to Choose for Your Child
When choosing the right gum, look for the ADA Seal as this confirms the gum is truly sugarless. To replace this sugar, gum manufacturers will use non-cavity causing sweeteners such as aspartame, xylitol, sorbitol, or mannitol.
Before a company can include the ADA Seal, they must verify that all information displayed on the packaging is true with the ADA. This should give you confidence that the gum has met all the ADA criteria for safety and effectiveness.
Learn more about the benefits of chewing sugarless gum with your children's dentist in Hillsboro. Schedule an appointment for your child today!
About the Author
Dr. Michael Royse is a graduate of the University of Oregon and a native of Beaverton, Oregon. After graduating with honors from The Oregon Health Sciences University School of Dentistry, he served as a dental officer with the United States Navy. During his 11 years of service, he completed multiple residencies, including a pediatric residency from the Fort George G. Meade DENTAC Pediatric Dentistry Residency in 1995. He's also a published research author and recipient of awards from the American Society of Dentistry for Children and the American Board of Pediatric Dentistry.  To learn more about his practice, you can contact him at (503) 640-6565 or visit his website.