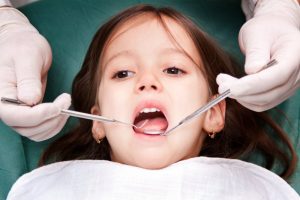 There are many times in life when you'll settle for the generic version. For example, if you're in a bind and need to write something down quickly, you're not going to stop to make sure that the pen you grab is of a certain brand. You just need anything that will write. But, there are times in life when just anything won't get the job done. You need a special tool or person for a specific task. When it comes to your children, you view them as special, which means that generic just won't due for them. This applies across the board, so when you are looking for a professional to manage their oral care, you want a kids' dentist in Hillsboro who is specially trained to work with them. Read on to learn about why you're perfectly right in desiring a qualified professional to work with your children.
What is a Pediatric Dentist?
Pediatric dentists are professionals who have completed a specialized training program to work with children. In addition to completing the rigors of dental school, they have gone on to receive an additional two to three years of education.
This is important because there are different variables to consider when working with children, like managing the growth and extraction of their first teeth, participation in sports and teeth-straightening methods.
Furthermore, your pediatric dentist will typically care for your children from birth through the age of 18, working closely with your general dentist and pediatrician to deliver the best care possible.
Other Benefits of a Pediatric Dentist
Patience – As a parent, you understand how important it is to have patience when working with children. They are full of energy and want to move, and they love to ask questions. A pediatric dentist and his staff will be prepared to accommodate the fact that kids will be kids.
Expertise – Children are not just emotionally and psychologically different from adults. They are also anatomically unique, which means that a specialist will have a greater ability to tailor his care to their specific needs.
Equipment – Another benefit of a pediatric dentist in Hillsboro is that his equipment will be geared toward children and the differences in their sizes from adults.
Your kids deserve the best of everything that life has to offer. That's why your children's dentist in Hillsboro is the best option to deliver the type of care that will start them on the right foot to oral health for the rest of their lives. To learn more about how you can take advantage of this opportunity, just give your local pediatric specialist a call.
About the Author
Dr. Michael Royse graduated from The Oregon Health Sciences University School of Dentistry with honors, followed by 11 years of military service. He then went on to complete his residency in pediatric dentistry, graduating from the Fort George G. Meade DENTAC Pediatric Dentistry Residency. He practices at Dentists at Orenco and can be reached for more information through his website.