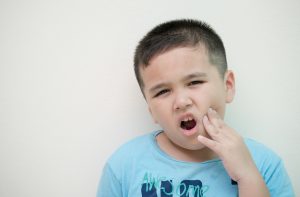 As a parent, one of the most difficult things is to witness your child endure pain. And what's worse is to feel helpless about doing anything about it. One such situation that can arise is for your kiddo to have a toothache, which can generate agonizing discomfort. Thankfully, though, there are some things that you can do to stabilize the situation and get your little one the care that he or she needs. This and more, your pediatric dentist in Hillsboro will expound on as you continue reading.
4 Steps to Take When Your Child Has a Toothache
In many cases, a toothache is considered an emergent situation, so here are the steps to take to stabilize your child:
Rinse – The first thing to do is have your child rinse the irritated area with warm, salt water.
Cold Compress – It's quite common for there to be swelling when there is an infection, so you can apply a cold compress to your child's face using the 20 minutes on – 20 minutes off method.
Pain Relief – One of the most important things to your little will be getting relief from the pain. You can administer acetaminophen (Tylenol) following the recommended dosage and frequency for your child.
See Your Dentist – All of the above measures are temporary, as the ultimate remedy will be delivered by your dentist. So be sure to contact him at the first sign of discomfort so that your child can be seen as soon as possible.
Ways to Prevent Toothache
Most toothaches are caused by poor oral hygiene and overall negligence. So to prevent them from happening, incorporate the following into your little one's lifestyle:
Regular Visits to Your Kid's Dentist in Hillsboro – At a minimum, your child should visit your local dentist every six months for thorough examinations and cleanings. The former will allow your oral expert to be on the lookout for any encroaching problems, while the latter will provide your bundle of joy with immaculately cleaned teeth and gums.
Brushing Twice a Day – It's important to impress the importance of oral hygiene upon your child at a young age so that it will become a habit that lingers for the rest of his of her life. Two practices that are paramount to excellent oral health are brushing and flossing at least twice a day to remove leftover food and bacteria that lead to problems like toothaches.
Eating Less Snack Foods – It's impossible to monitor what your children eat every moment of the day, but as best as you can, provide them with healthy food options, so they won't have to rely on snack foods when they get hungry. This helps to limit the number of harmful bacteria and balance the pH levels in their mouths to create a healthier environment.
A final thought to keep in mind in regard to toothaches, is not to panic. Just reach out to your local dentist for instructions on how to proceed and also recall the information that has been presented here, so that your kiddo can get back to normal in no time.
About the Author
Dr. Michael Royse earned his dental degree from The Oregon Health Sciences University School of Dentistry. He later went on to complete his residency in pediatric dentistry, graduating from the Fort George G. Meade DENTAC Pediatric Dentistry Residency. A Diplomate of the American Board of Pediatric Dentistry, Dr. Royse has been in private practice for over 18 years at Dentists of Orenco and can be reached for more information through his website.