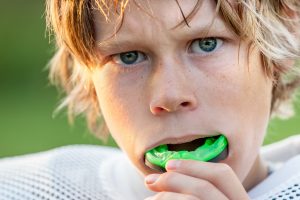 In observance of National Facial Protection Month (NFPM), your pediatric dentist in Hillsboro is weighing in to remind you of the importance of thinking about the "what-ifs" when it comes to your little one's involvement in any sporting events. One of the what-ifs is a collision that can easily occur while involved in an activity, which can lead to a serious dental emergency. As you continue reading, you'll learn more about the importance of a custom mouthguard in helping your kiddo be as safe as possible.
NFPM Serving as a Reminder to Protect Your Child
The NFPM was created and sponsored by a host of professionals from different backgrounds who saw a need to raise awareness about the importance of children wearing mouthguards while participating in sports. This is because it plays a huge role in preventing dental emergencies that can occur as a result of collisions.
Sudden trauma to the mouth or face can lead to the following:
Chipped, cracked or dislodged tooth
Laceration of soft tissues
Broken jaw
Thankfully, these mishaps can be avoided.
How to Protect your Child's Face
One of the best ways to protect your little one's mouth and face is by equipping him or her with a mouthguard.
Although it is simply designed, it serves multiple purposes, including:
By providing a sort of cushion between the upper and lower teeth, a mouthguard prevents damage that can occur from the sudden force applied when they are forced together during impact.
The mouthguard also protects the teeth from direct blows to the front of them. This is because it absorbs the energy from the impact and disperses it away from the teeth just like the bumper on a car.
The chances of cuts and extreme bleeding are lessened, too, because if there is contact, your little one's lips won't rub directly against the teeth.
Is a Custom Mouthguard Necessary?
When your child is fitted with a custom mouthguard from your kids' dentist in Hillsboro, you can feel secure in knowing that he or she has the best protection available. This is because he or she will be wearing an application that was designed to fit his or her specific bite, which will prevent issues with jaw alignment and provide the maximum absorption of force during impact.
What's even greater is that the process is fast and convenient. So consider the advice of dental care professionals around the nation. Take the proactive step in protecting your child's mouth and face by scheduling an appointment with your dentist for kids in Hillsboro today!
About the Author
Dr. Michael Royse earned his dental degree from the Oregon Health Sciences University School of Dentistry. While serving as a dental officer in the United States Navy, he completed a general practice residency, graduating from Fort George G. Meade DENTAC Pediatric Dentistry Residency. A board-certified Diplomate of the American Board of Pediatric Dentistry, Dr. Royse practices at Dentists at Orenco and can be reached for more information through his website.