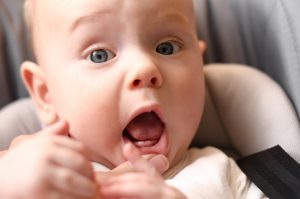 The first 12 months of a baby's life is filled with milestones: the day they come home from the hospital, their first smile, the first time they roll over and begin to crawl. Another memorable milestone is when that first baby tooth appears! Teething can be a trying time for an infant, and as a parent, you may have to deal with a fair share of baby drool and tempter-tantrums as your child's smile develops. However, even if your baby is a bit fussy during teething, it is important to start them on a path of good oral hygiene by brushing their teeth – or even just that first tooth – twice every day. For more advice related to teething and your children's dental health, read what a children's dentist in Hillsboro says below.
What to Know About Teething
Although most babies do not have any visible teeth at the time of their birth, it will not be long before that first small tooth starts pushing through the gums. Most baby teeth begin to appear about six months after birth, although some children do not get their first teeth until they are closer to one year old. By the age of three, most children will have a full set of 20 baby teeth in place.
If you notice your baby crying more than normal or generally being fussy, it could be because their teeth are coming in. During the teething process, some babies may become irritable, have trouble sleeping, lose their appetite or drool more than usual. Important to note is that fever, a runny nose or diarrhea are not signs of teething, so take your child to the doctor if they experience these symptoms.
How to Care for Children's Teeth
As soon a child's baby teeth appear they are at risk of decay, so it is very important that parents clean their children's teeth until they are old enough to brush on their own. Here are a few age-specific guidelines to help keep your children's teeth healthy:
Infants without teeth – Before any teeth appear, use a clean, moist gauze pad or washcloth to gently wipe an infant's gums.
Children under three – As soon a child's teeth begin to come in, be sure to brush them twice daily – once in the morning and once at night. Use a fluoride toothpaste in an amount the size of a grain of rice.
Children three to six – Children ages 3 to 6 years old should brush daily using a pea-sized amount of toothpaste. Try to brush your teeth together with your children so you can supervise their oral health habits and lead by example.
Set your children up for a lifetime of excellent oral health by keeping their teeth clean as soon as they appear, teaching them proper oral health habits and regularly visiting a pediatric dentist in Hillsboro.
About the Practice
At The Dentists at Orenco for Kids!, parents can rest assured knowing that their children are receiving high-quality dental care in a kid-friendly environment. Whether your child needs a filling for a cavity or just a regular preventive checkup, you can rely on the dedicated team of dental professionals in our Hillsboro office. If you want to learn more about how to take care of your son or daughter's baby teeth, visit our website today or call the office at 503-640-6565.