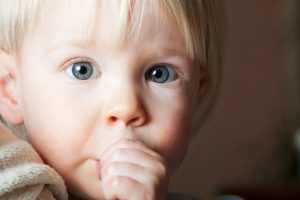 As a parent who wants to ensure their child is healthy and taken care of, you may have wondered what kinds of bad habits to discourage. Making sure your kids grow up healthy and happy is your top concern, and as they grow older you wonder when things like thumb sucking will turn into a harmful practice for them. Thankfully, your pediatric dentist in Hillsboro can ease a little bit of your worry by offering advice for your child's natural habit.
Thumb Sucking is a Natural Behavior
Your child has probably sucked their thumb since they were in the womb. It's a completely normal impulse that makes them feel safe and even calms their anxiety from being away from you. So, it is important to keep in mind how this coping mechanism can affect their mental health as well.
Since a child doesn't start getting their permanent teeth until they're about six, there isn't much they could do to ruin their oral structure just yet. Thumb sucking can only result in serious consequences when the habit becomes vigorous and frequent past the age of four. Most children tend to drop it naturally, but if they don't there are always ways to discourage it.


Consequences of Thumb Sucking
So your child is still sucking their thumb past four—now what? There are multiple affects that thumb sucking can have on your child's oral health past a certain age:
Shift or change in bite. The force of the suction can cause your child's teeth to grow in different ways. Your child could develop an overbite where their teeth significantly overhang, permanently damaging their oral structure. Other results you could see are buck teeth and an uneven bite where their front teeth won't close but their molars will.
Damage to the roof of their mouth. When children are more vigorous thumb suckers, it can damage their palate which could result in speech issues. The pressure from the suction can break down the surrounding soft tissue and alter the shape of the roof of their mouth. Other factors that this could affect are your child's swallow patterns, breathing patterns and the shape of their face.
Do's and Don'ts of Habit-Breaking
There are many ways you could encourage your child to stop sucking their thumb if you believe it's becoming detrimental to their oral health. Some do's include:
Setting up positive reinforcements and reward systems for your child.
Praising your child when they begin to do the habit less often.
Sitting them down and explain how their habit can have a lasting effect on them.
Visiting a pediatric dentist to assess other options of discouragement and for further information on effects.
While breaking habits is a timely feat to take on, it can become frustrating for parents. It is important to stick to healthy and positive ways of discouragement—here are some don'ts:
Do not use spicy foods or substances to deter children from sucking their thumb.
Refrain from scolding or accusing them of doing something bad. It could heighten their anxiety and potentially make the habit worse.
While some dentists suggest switching to a pacifier is a healthier alternative because you are able to take it away from them, other dentists suggest not to do this because it creates another habit.
Regular visits to your pediatric dentist to discuss preventive care for your child is important in maintaining their oral health. If you notice any kind of change in your child's teeth or become concerned about their habit, it is important to discuss it with your dentist for kids in Hillsboro.
About the Practice
At Dentists at Orenco For Kids, we offers decades of collective experience between our five dentists, three of which are pediatric experts. Dedicated to serving children, our pediatric team of dentists are each Diplomates of the American Board of Pediatric Dentistry. For any questions or concerns about you or your child's dental health, visit their practice website or contact them at 503-640-4262.