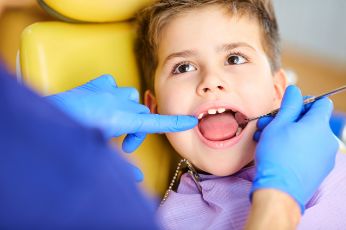 Chances are, you wouldn't schedule your child's general health checkup with a doctor who sees adults. Kids have a whole different set of healthcare concerns and also need to see someone who makes them feel comfortable. The same principles can be applied to dentistry. Seeing a board-certified pediatric dentist in Hillsboro is a great way to make sure your child gets outstanding dental care (and maybe even has fun at their visits!) Learn more below about the benefits of bringing your child to a pediatric dentist.
What Are the Benefits of Seeing a Pediatric Dentist?
There are multiple reasons to schedule with a children's dentist. First, since pediatric dentists only see children, they have more experience with the unique kinds of issues children face.
Also, a children's dentist knows how to make things fun! From kid-sized furniture and equipment, cartoon characters on the walls, and brightly-colored rooms, your child will feel right at home.
Finally, having received additional training in special needs, a pediatric dentist in Hillsboro can help every child achieve the healthy smile they deserve.
What Distinguishes a Board-Certified Pediatric Dentist?
To have the right training and experience to address your child's unique needs, a dentist needs to have advanced education beyond dental school.
Although general dentists can see children and even call themselves a pediatric or children's dentist, the only way to make sure they have this education is if they're board-certified.
This ensures that they completed 2 additional years in a pediatric graduate program after dental school, and also passed a rigorous written and oral clinical exam. To demonstrate continued competency and maintain this qualification, they also have to complete ongoing training and renew their certification each year.
By adhering to these high standards, a board-certified children's dentist becomes an expert in providing dental care to kids. And, ultimately, your child is more likely to get dentistry that's tailored to their needs and have a better experience at each visit.
Regular checkups in childhood are one of the most important factors in having good dental health for life. By getting that care from a children's dentist, you can be sure your child's smile is in good hands!
About the Author
Dr. Michael Royse is a board-certified pediatric dentist with decades of experience and also a father of two. As a native of the area, he loves serving his community and is dedicated to providing high-quality, kid-friendly dentistry to children. If you're looking for a children's dentist in Hillsboro or have any questions, he can be reached via his website.