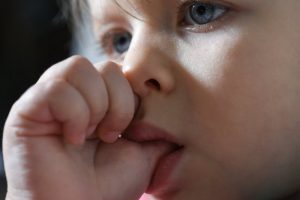 Taking care of your kid's oral health can be a bit of a challenge. You have to watch out for when their teeth start coming in and eventually prepare for visits from the tooth fairy when their baby teeth fall out. In addition, there are bad dental habits to watch out for that can cause serious problems if they're not dealt with soon enough. That's why your children's dentist has put together this guide on how to combat 3 unhealthy habits for children.
Tongue Thrusting
Tongue thrusting is when your child habitually pushes their tongue against their lips when swallowing. Over time, this can lead to the front teeth protruding outward. Not only does this produce a strange appearance, but it can increase your child's risk for tooth decay since the teeth are not properly aligned.
The best way to fight this habit is to see your pediatric dentist. He or she can give your kid an oral appliance that is worn on their upper teeth and palate. This will prevent teeth from being thrusted forward. However, make sure to still clean under and around the device.
Baby Bottle Tooth Decay
Also known as nursing bottle syndrome, baby bottle tooth decay is when a baby constantly consumes sugary drinks, such as milk, juice, or formula. Generally, the most damage occurs when your little one is given a bottle before bed and can continue ingesting the sugary drink throughout the night. This gives bacteria plenty of time to accumulate in your baby's mouth and cause cavities and gum infections.
To prevent baby bottle tooth decay, don't let your son or daughter drink anything with a high sugar content before bedtime. Instead, send them to dreamland with a pacifier or a bottle full of water.
Thumb Sucking
Thumb sucking is a perfectly normal habit for babies. However, if it progresses past infancy, it can result in issues such as:
Overbite
Misaligned teeth
Difficulties in speech resulting from shifted teeth
It's recommended that children kick this habit before the age of five to prevent any damage to their teeth and jaw. Oftentimes if they continue to suck their thumb past this age, it may be due to anxiety. Talking to a child's psychologist may help get to the heart of the matter and stop the habit in its tracks. Additionally, you could place a bandage on their thumbs as a reminder to not suck them.
There are a lot of bad habits to watch out for as you're raising a child. If you need more advice on how to get them to quit, don't hesitate to call their dentist.
About the Author
Dr. Brandon Kearbey earned his Doctor of Dental Surgery degree from Loma Linda University in 2006, and has worked in private practice treating patients of all ages in Hillsboro, OR ever since. He is dedicated to continuing education and has taken multiple courses through Spear Education. To learn more about establishing healthy dental habits for your children, click here or call (503) 640-6565.