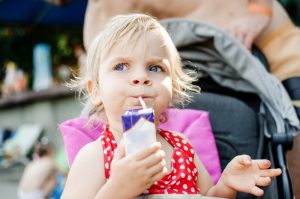 Did you know that tooth decay is the single most common chronic childhood disease? According to a survey conducted by the American Academy of Pediatric Dentistry, 60% of children in the U.S. experienced tooth decay by the age of 5. This shocks many parents and caregivers who routinely keep their son or daughter's teeth clean or limit their exposure to sugary snacks like cookies candies, and other sweets. Unfortunately, one of the top sources of added sugars in their diet is often overlooked. Popular drinks like soda, sports drinks, and fruit juices all play a key role in the formation of cavities in your child's smile. Read on to lean what your pediatric dentist wants you to know about your son or daughter's favorite beverage.
What Sugars & Acid Do to Your Child's Teeth
Your child's mouth naturally contains bacteria. These bacteria can transform the sugars in the foods and drinks your child consumes into acid in less than 20 seconds! As the acid sits and accumulates along the teeth and gums over time, it eats away at the protective enamel to cause cavities. Since primary teeth aren't as strong as secondary teeth, tooth decay can progress much faster than what you might expect.
Even though your child's baby teeth will fall out on their own eventually, it's very important that any cavities are taken care of. Tooth decay is a disease, and if left untreated, it can cause painful infections, difficultly with chewing, and even damage to developing permanent teeth.
Which Drinks Have the Most Sugar and Acid?
Unfortunately, some of the most common drinks for children are brimming with sugars and acids. You probably know that too much soda can cause tooth decay, but did you know the same holds true for diet soda? Even without the sugar content, diet sodas are acidic enough to cause cavities. The same is true for low-sugar sports drinks. While juices may be a healthier alternative to both, they're also full of natural but harmful sugars and acids.
Why Water is the Best Choice
The American Heart Association recommends that children between the ages of 2 and 18 should sip no more than 8 ounces of sugar-sweetened drinks over a seven-day period. Instead, encourage your child to drink more water. Aside from being great for your overall health, drinking more water:
Cleans out any lingering food particles in their mouth.
Rinses away the bacteria that causes bad breath, gum disease, and tooth decay.
Encourages their mouth to produce saliva, the body's natural mouthwash.
By teaching your son or daughter to consume sugary drinks in moderation and stay hydrated with water, you can set them up for a lifetime of happy, healthy smiles.
About the Practice
The Dentists at Orenco for Kids proudly serves the Hillsboro, OR residents with outstanding dental care. Our experienced team of dentists are dedicated to providing comfortable, efficient dentistry for the whole family. Our pediatric dentist Dr. Michael Royse is a published research author and recipient of awards from the American Society of Dentistry for Children and the American Board of Pediatric Dentistry. If you have any questions about the article you just read, the entire team can be reached at our website or at (503) 640-6565.