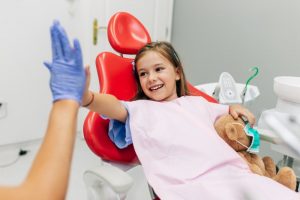 Your son or daughter's first dental appointment can be an exciting but somewhat nerve-wracking time for both of you. It's important that they visit a pediatric dentist early to ensure their oral development is on track for a lifetime of happy, healthy smiles. However, the unfamiliar experience along the new sights, sounds, and friendly faces can sometimes be overwhelming for your little one. Here are seven tips to help make your child's first visit to their Hillsborough pediatric dentist a great one.
Tip #1: Don't Make Your Child Nervous
How you talk about visiting the dentist plays a huge role in forming your son or daughter's opinion before they even go. Even if dental visits make you nervous, always talk about their upcoming visit in a positive, upbeat way. You may even find yourself a bit more relaxed as well!
Tip #2: Tour the Office Before the Visit
Pediatric dentists have specialized advanced training to care for children and their smiles. Most will welcome you and your little one to take a tour of the office before their first appointment for a stress-free introduction and a great first impression.
Tip #3: Watch Videos and Read Books About Dentists
Books, shows, and videos geared towards kids are a great way to teach them what to expect at their appointment. Whether it's Peppa Pig, the Sesame Street gang, Dr. Seuss characters, Curious George, or the Berenstain Bears, their favorite cartoon character can make dental visits seem a little more fun.
Tip #4: Play Pretend Dentist at Home
Playing dentist games at home is another great way to demystify your child's upcoming appointment. Sit them down in a chair and take turns counting each other's teeth with a toothbrush. You can tell them that the dentist will also be counting their teeth and looking for "sugar bugs" at their appointment.
Tip #5: Pick the Right Time
Timing can make all the difference in your child's first visit to their dentist. Going while they're tired or hungry is a recipe for tantrums and tears. Try to schedule their appointment when they're typically in a good mood, like after naptime or lunchtime.
Tip #6: Use Positive Reinforcement
It's completely natural for your son or daughter to feel anxious about this new and unusual situation. Reassure them that it's normal to be worried, but praise or reward them for conquering their fears and being brave. If they do get upset at their appointment, remember that your pediatric dentist is an expert at handling tantrums and follow their instructions.
Tip #7: Bring Extra Moral Support
If your little one has a favorite stuffed animal or toy, take it along for moral support. A familiar comfort like this can help them feel safe and secure, and maybe even make their appointment a little more fun! Most pediatric offices will have toys of their own that your child can take with them to the treatment area.
With these seven tips, you can help your child feel confident about hopping up into the dental examination chair! A great first experience at the dentist's office will encourage them to continue to care for their oral health as they grow.
About the Practice
At Dentists at Orenco for Kids, we're proud to showcase the talents of three highly trained pediatric dentists to help the growing smiles of Hillsborough, OR. They all have years of experience and advanced training in caring for the unique needs of developing teeth and gums. With patient, one-on-one attention for each and every child, they'll strive to provide your little one personalized treatment for their unique smile. If you'd like more tips to prepare them for their first visit, feel free to contact us via our website or at (503) 640-6565.