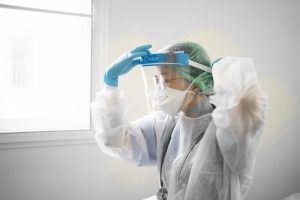 Everyone in your family has been diligently following the CDC's social distancing guidelines, staying home whenever it's possible. Then, one day, your child complains of a really bad toothache. You're a bit nervous to visit a pediatric dentist in Hillsboro. Are dentists' offices even safe right now? You can rest easy knowing that dentists across the country are taking every precaution to ensure the safety of their patients. One of those precautions includes wearing as much PPE as they can. Keep reading to learn more about what PPE is and how dental teams wear it to keep their patients and themselves safe.
What Is PPE?
PPE stands for personal protective equipment. Essentially, it's a type of protective gear that healthcare professionals wear in order to keep themselves and their patients safe from germ exposure. Some common examples of PPE that dentists might wear include shoe coverings, surgical masks, gloves, face shields, hair caps, and surgical gowns. Items like these prevent harmful pathogens from making direct contact with the skin and entering the body.
When Is PPE Necessary?
Rest assured that your child's dentist will wear PPE whenever they treat your son or daughter, especially if dental aerosols are likely to be produced. Dental aerosols are particles that may consist of blood, saliva, and any germs the patient might be carrying. These particles are released from a patient's mouth when certain dental instruments are used. They can also remain in the air for up to a few hours before falling to the ground. During that time, pathogens in the aerosols could potentially infect the dental team as well as the next several patients. Because of this, extensive PPE is required to prevent the transmission of germs.
How Should Your Child's Dental Team Wear PPE?
There is a standard protocol when it comes to putting on and removing PPE, which looks something like this:
Before Entering the Treatment Room
Prior to administering care to your child, members of the dental team will first wash their hands. Then they will put on a clean surgical gown to cover their clothing and skin that may be exposed to saliva, blood, or germs in dental aerosols. Next, they'll don a respirator or surgical mask as well as eye protection. Before putting on a clean pair of gloves, they'll wash their hands again and enter the treatment area.
After the Procedure Is Complete
Once the dental team is finished with your child's treatment, they will take off their gloves and their gown or other protective clothing. After they leave the treatment area, they'll wash their hands and remove their eye protection as well as their surgical mask or respirator. Lastly, they'll wash their hands another time just to be safe.
There is nothing that your child's dentist takes more seriously than their patients' health. As such, you can trust that they will take every precaution to ensure your little one's safety while they're in the office. For any questions regarding your child's dental care, just give them a call.
About the Author
Dr. Brandon Kearbey is a pediatric dentist in Hillsboro, OR who earned his dental doctorate from Loma Linda University in 2006. He is certified in IV sedation and has undergone extensive training in many advanced dental procedures, such as tooth extractions and root canals. His office takes several safety measures to keep their little patients germ-free. To learn more about these safety protocols, you can visit Dr. Kearbey's website or call (503) 640-6565.