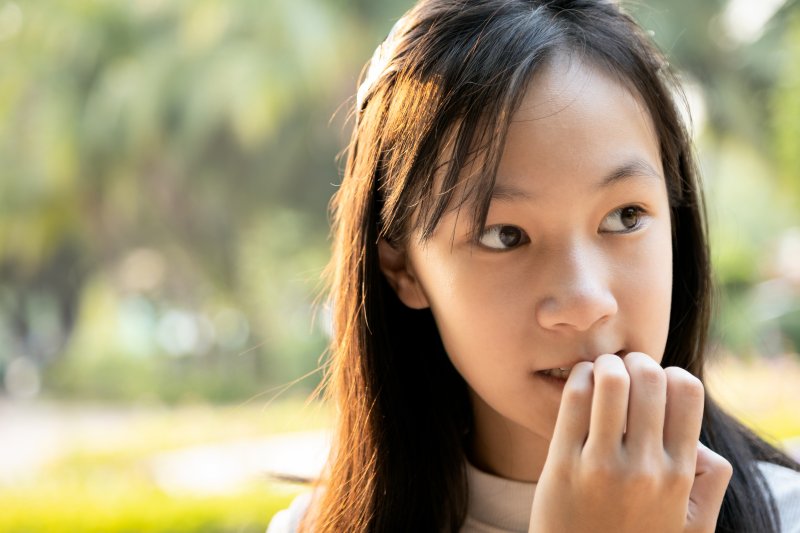 Professionally referred to as onychophagia, nail biting is an oral compulsive habit that nearly 50% of children between the ages of 10 and 18 partake in. Whether it is a behavior associated with stress or just something your child does when they are bored, this seemingly innocent habit can wreak havoc on their teeth and oral health. To protect their smile, try to determine what triggers your child to bite their nails so you can help them stop. In the meantime, read on to learn how nail biting affects your child's oral health and get tips from a pediatric dentist in Hillsboro on preventing this behavior!
5 Ways Nail Biting Can Affect Your Child's Oral Health
When an anxiety-inducing situation arises or the endless hours of boredom from the stay-at-home orders are too much, your child may begin aggressively biting their nails. Unfortunately, this chronic behavior can:
Weaken the protective layer of enamel on their teeth, leaving them vulnerable to fractures.
Result in cuts to the gum tissue, which can lead to wounds and infections.
Lead to movement in their teeth, which can be detrimental to their bite.
Expose their mouth to the harmful bacteria that live under their fingernails.
Make them vulnerable to Paronychia, which is a skin infection that occurs around the nails.
How You Can Help Your Child Stop Biting Their Nails
Like most bad habits, quitting cold turkey is difficult. Therefore, it can be beneficial for you and your child to start with baby steps. To start, many pediatric dentists recommend making a calendar where you mark each day your child doesn't bite their nails. This helps your child visualize their progress. Also, make sure to incentivize the goal to keep your little one motivated. If needed, add additional tactics, like encouraging them to wear gloves at home or introducing alternative forms of entertainment or stress relief. Throughout the process, make sure to practice positive reinforcement and be patient!
How Your Pediatric Dentist Can Help
Over the years, your child's pediatric dentist has helped many children with poor oral habits from thumb sucking to nail biting. Fortunately, their extensive experience enables them to provide you with personalized tactics to stop the behavior or support when you feel like you have tried everything. Plus, your pediatric dentist can recommend preventive and restorative treatment options along the way to ensure your child's smile remains healthy and strong throughout the years.
Although some children grow out of nail biting as they age, others carry the habit into adulthood. However, it is important to know that you're not alone in your effort to help your child stop biting their nails. If you need tips, be sure to talk to a pediatric dentist!
About the Practice
At Dentists at Orenco for Kids, your child can receive the advanced pediatric care they need and the kid-friendly atmosphere they desire all under one roof! Backed by their talented team, Dr. Michael Royse, Dr. Malinda B. Kearbey, Dr. Brandon S. Kearbey, Dr. Ben Pham, and Dr. Andrea Beltzner use their clinical expertise to provide a comprehensive array of services. If you are looking for a dentist for kids in Hillsboro, don't hesitate to visit their website or give them a call at 503-640-6565.