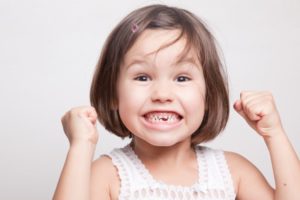 Just like Santa Claus and the Easter Bunny, the Tooth Fairy is an age-old tradition that helps make childhood magical. For generations, young children have hidden their baby teeth underneath their pillows in hopes of a small gift from this mythical sprite. Not only is this tradition fun and exciting, but it also presents an excellent opportunity to teach your son or daughter about oral health. Your Hillsboro pediatric dentist shares five fun ways you can use the Tooth Fairy to get your little one invested in keeping their precious smile healthy!
1.) The Tooth Fairy Likes Healthy Teeth
The Tooth Fairy doesn't have to pay a flat rate for every tooth! As you brush and floss your child's teeth every day, explain to them that the Tooth Fairy prefers healthy, shiny teeth. She may even offer special rewards for a particularly well cared for tooth, like a new toothbrush or hand-written note congratulating them on their healthy smile.
2.) The Tooth Fairy Cares About More Than Just Lost Teeth
While losing a baby tooth can be somewhat frightening for a child, the promise of a visit from the Tooth Fairy helps associate the experience with positive feelings. She can also help your child feel better about visiting their dentist and keep them engaged in daily oral hygiene. Consider having the Tooth Fairy reward your son or daughter for behaving during their dental checkups and remember to floss every day.
3.) Reward Your Child with Fun Oral Health Products
While the Tooth Fairy's traditional trade for baby teeth is a quarter or dollar, you can certainly use other rewards as well. Perhaps the Tooth Fairy can leave your son or daughter new toothbrushes with their favorite cartoon characters on them, fun-flavored toothpaste or floss, or children's books on oral health care.
4.) Make a Dental Habit Tracker
A habit tracker can let your little one see just how well they're caring for their smile. A visual reminder can go a long way in helping them feel proud of brushing and flossing their teeth regularly! Have them leave their dental habit tracker out to show off to the Tooth Fairy after they've reached certain milestones. Perhaps she'll leave them a small gift!
5.) Become the Tooth Fairy's Helper
Dental care isn't naturally an exciting activity for your little one. If you're having trouble getting them to brush or floss their teeth every night, positive reinforcement can be one of the most effective tools you have. Similar to being Santa's helper, you can let your child know that the Tooth Fairy checks in with you about their good oral health habits to determine if they should get a reward or not. A special note from the Tooth Fairy will help them feel proud that their efforts were noticed and encourage future good behavior.
Eventually, your child will stop believing in myths like the Tooth Fairy in Hillsboro. In the meantime, try using this tradition to teach them healthy dental habits they'll use for the rest of their life!
About the Practice
At The Dentists at Orenco for Kids, we are proud to care for the growing smiles of Hillsboro, OR and the surrounding communities with a team of experienced and talented dental professionals. We offer a wide range of services designed to keep your child's smile healthy, including custom mouthguards, fluoride treatments, dental sealants, and more. If you'd like to learn more about caring for your little one's oral health, feel free to contact us via our website or at (503) 640-6565.