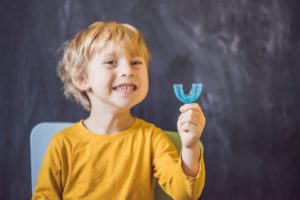 As a parent of a young athlete or active child, you already know just how important safety equipment is for preventing serious injury. However, among all the helmets, kneepads, and other items, make sure your child is fully protected with a custom mouthguard as well! This little device is often overlooked and undervalued, but it is essential for protecting your little one's smile and jaw. Read on as your Hillsboro pediatric dentist explains just how important it is for your son or daughter to wear a mouthguard while being active.
What Do Children's Mouthguards Do?
Mouthguards are u-shaped cases that fit over your child's teeth. Essentially, they protect the teeth and soft tissues in the event of a blow to the face. While this simple dental device can fit in the palm of your hand, it has numerous important functions that you may not have considered:
Perhaps most obviously, mouthguards help protect the teeth from chipping, cracking, or being knocked out from an outside force.
Mouthguards act as a barrier between upper and lower teeth, therefore preventing them from crashing into each other and causing damage.
They cushion the teeth and distribute force, which can help keep a tooth from being pushed out of place or partially dislodged.
They guard against injuries to the soft tissues, including the gums, cheeks, lips, and tongue.
Dispersing the force can also minimize the risk of jaw fractures and dislocation.
When Should My Child Wear a Mouthguard?
Unfortunately, mouthguards aren't always required for participating in organized sports when they should be. Dental experts and pediatricians recommend that a child wear a mouthguard during any activity that can potentially result in a facial injury, such as:
Contact sports, like football, hockey, or boxing.
Non-contact sports, such as baseball, basketball, or soccer.
Recreational activities, including skateboarding, mountain biking, or rock climbing.
What Are the Different Types of Mouthguards?
When it comes to protecting your child's smile, there are several types of mouthguards to consider. Stock boil-and-bite mouthguards are widely available, but they offer minimal protection. Athletic mouthguards from a sporting goods store may cost more and may be able to provide more support. However, a custom-made mouthguard from a dentist is widely considered to be the most effective option. These resilient dental devices are tear-resistant and offer the longest lifespan. What's more, their precisely custom fit ensures that they provide maximum protection and are comfortable to wear.
It's important that your little one is safe as they stay healthy. Talk to your pediatric dentist today about a custom-made mouthguard in Hillsboro to protect your child's precious smile!
About the Practice
At The Dentists at Orenco for Kids, we work hard to prevent children's dental emergencies in Hillsboro, OR and the surrounding communities. Alongside regular preventive care and biannual checkups, one of the ways we strive to help keep growing smiles happy and healthy is with custom-made mouthguards. We use high-quality materials and the latest dental technology to create a device that will keep your child's teeth, gums, and jaw as safe as possible as they play. To learn more, we can be reached via our website or at (503) 640-6565.