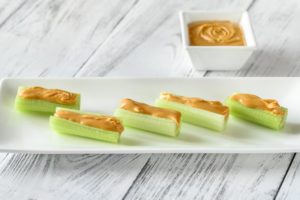 With the current pandemic and the fast-approaching holidays, kids are spending a lot more time at home and snacking more often, usually reaching for cookies, chips, and soda. If cavity-causing foods in Hillsboro are putting your child at a higher risk of unpleasant visits to the dentist, keep reading to learn about 5 snack ideas that taste great and will help minimize damage to your family's teeth.
Celery with Peanut Butter
Peanut butter contains fiber. According to the American Dental Association, fiber helps keeps your teeth and gums healthy because it slows the digestion of sugars so your body can process them. Fibrous vegetables like celery can clean your teeth and massage your gums at the same time. Add some raisins, which the USDA says contain phytochemicals that may help stop the growth of bacteria that causes cavities, and you've got a healthy snack that is tasty and healthy.
Cheese
Your son or daughter might like to snack on cheese because it tastes good, but it also has fantastic health and dental benefits! Eating cheese can benefit your oral health, as the protein found in it helps counteract acids in plaque that can cause tooth decay. It also contains casein, a protein that helps with the re-mineralization of the enamel. A few kid-friendly cheeses include cubed cheddar and string cheese.
Cocoa
One of the first things many children ask for after a day of playing outside in the cold temperatures is a mug of hot cocoa. But instead of the usual milk chocolate cocoa, giving them a dark chocolate version can reduce their sugar intake while helping to stop bacteria from developing on their teeth. The antioxidants in dark chocolate can also help prevent plaque from forming.
Apples and Berries
They say an apple a day keeps the doctor away, but this can also be said for dentists! The flavonoids found in apples and berries like cranberries or blueberries can prevent bacteria from sticking to surfaces and minimize the growth of bacteria in the mouth. Snacking on apples simulates an alkaline saliva flow that neutralizes acids in plaque, helping to clean teeth.
Banana Oat Cookies
We know most kids love cookies. Homemade cookies made with just mashed bananas, honey, and oats are both delicious and healthy. Bananas offer sweetness while also providing multiple vitamins and minerals that can strengthen tooth enamel. Manuka honey can inhibit oral bacteria associated with plaque, tooth decay, and gum disease. Oats are high in soluble fiber and reduce the risk of periodontitis. For an additional treat, add cranberries or raisins!
Prepackaged foods may be easy, but they can also be very damaging to your child's oral health. Removing or at least minimizing processed snacks can increase energy, offer better nutrition, and minimize dental issues. The fewer cavities they have, the better it will be for their health and your wallet! Visit your pediatric dentist in Hillsboro for more ideas on how to manage your child's dental health.
About the Author
From preventive to restorative care like fillings or pulpotomies, The Dentists at Orenco for Kids offers friendly dental care to help put your child at ease. This dental office focuses on personalized treatment with a dedication to making all patients comfortable from start to finish. To learn more about their pediatric dentistry services, visit the website or contact the office at (503) 640-4262.