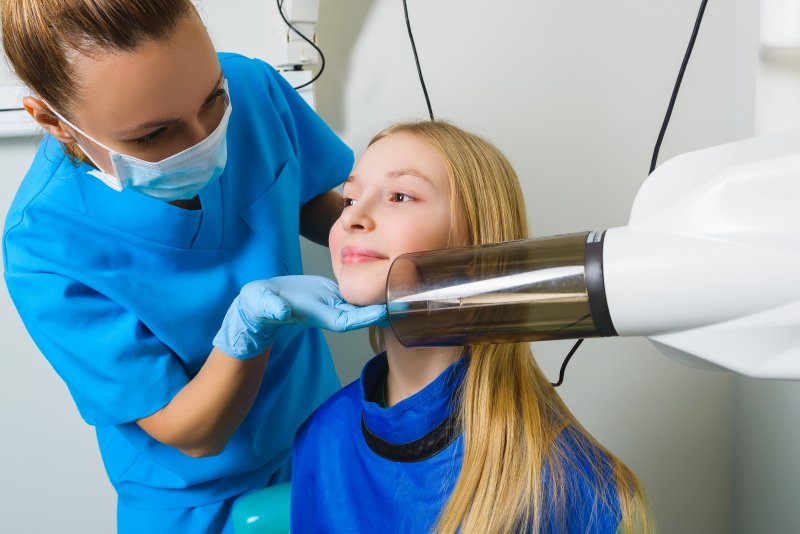 As a parent, it's natural to be a little nervous anytime your child goes to see the dentist. Many aspects of dentistry look intimidating and sound even more so when your dentist tells you what's going on.
Dental x-rays are one example of a procedure that sounds like it might be too much for kids, but they're actually an important and routine part of pediatric dentistry. If you want to learn a little more about how x-rays are used for children, here's more information about the purpose they serve, and their safety.
Are Dental X-rays Safe?
Dental x-rays can certainly look intimidating, especially the ones that almost look like a cannon pointed at someone's face. That said, dental x-rays are completely safe for people of all ages, including children.
The amount of radiation your child will be exposed to is minuscule; they're probably exposed to more just walking around over the course of a day than they are during the x-ray. Your dentist will also give your child a lead bib to ensure that they're getting as little radiation as possible.
Why Are X-rays Important?
Your dentist is good, but there are some things even they can't see from the outside. Certain types of gum disease can erode bone structures under the gums, and it's important to catch that early before it becomes serious.
There could also be cavities in places that your dentist can't see, like between the teeth. So-called "interdental cavities" can't be seen easily without an x-ray.
Why Do Kids Need Them So Often?
Dental x-rays are performed maybe once every few years for adults, but your child will probably get them every time they see the dentist. That's because your child's teeth and bones are still developing, and most of that is happening under the surface.
Regular dental x-rays give your dentist the opportunity to check on the progress of that development and to predict what kinds of treatment will be necessary in the future.
As odd as x-ray machines can look, they serve an important function in pediatric dentistry. Next time that your child's dentist uses them, you can feel assured that they have your family's best interest in mind.
About the Author
Dr. Michael Royse is a pediatric dentist who knows what it takes to help your family get the smiles they deserve and to make the entire process as stress-free for you as possible. Dr. Royse graduated with honors from The Oregon Health Sciences University School of Dentistry before serving as a dental officer in the United States Navy. He was stationed all over the world during his 11 years of service before opening his private practice 18 years ago.
If you have any questions about dental x-rays, he can be reached at his website or by phone at (503) 640-6565.