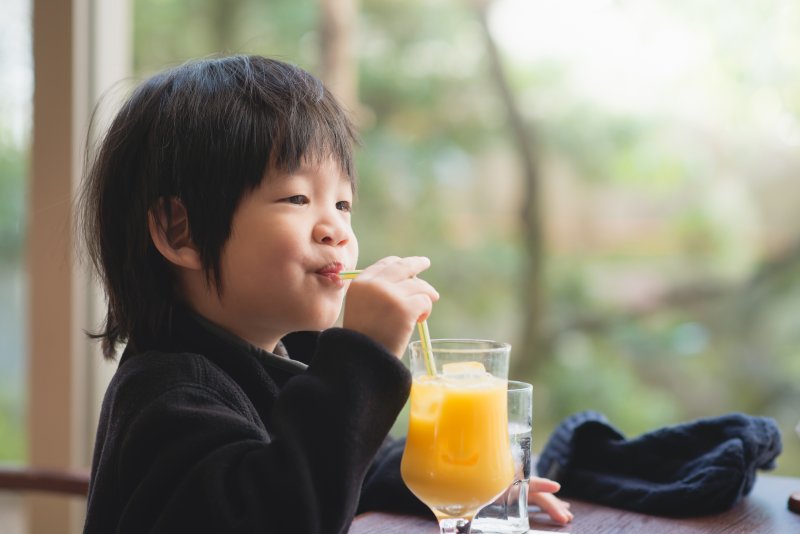 A lot of the time, it can be really hard to get kids to eat or drink just about anything. They're particular, which leads parents to often lean on some staples that they're sure their kids will like.
However, this can unfortunately lead to kids drinking a lot of liquids that aren't so good for their teeth. One 2018 study conducted by the UConn Center for Food Policy and Obesity found that 62% of children's drink sales were heavily sweetened, which spells disaster for their oral health.
If you want to help your child drink something a little more healthy, here's what to avoid and what you should urge them toward instead.
Drinks That You Should Reconsider
Really the main thing that you have to worry about when it comes to children's drinks is sugar. Soda is an obvious example, and one that most parents know to discourage their kids from drinking. Not only are sodas sweet, they're also incredibly acidic, further contributing to decay.
However, the real threat comes from fruit juices. Many of the most common kinds of juice are made from concentrate and absolutely packed with sugars, making them addictive to kids but terrible for their teeth.
Finally, chocolate milk is a hidden threat that parents might not consider. While getting enough calcium is never a bad thing, there's a stunning amount of sugar in most flavored milk—almost as much as soda!
What to Have Kids Drink Instead
While kids can be picky, even making a small change to cut a little bit of sugar out of their diet can be helpful. For one, if your child loves the taste of chocolate milk, try getting them to switch to regular milk instead. It's low in sugar and a great source of the calcium they need.
Ultimately, the best drink for your child's teeth—and their health in general—is water. Fluoridated water in particular is a great way to boost their oral health while keeping them hydrated. Change can be slow, but whatever substitutions you make are sure to pay off!
About Our Practice
Welcome to The Dentists at Orenco for Kids! For years we've been helping children and families smile their brightest, and in that time we've learned a thing or two about what it takes to give kids the oral healthcare that they need. Dr. Michael Royse is a board-certified pediatric dentist, even serving as the Head of Pediatric Dentistry at the United States Naval Dental Center, Naples, Italy. There's no one better to trust your child's oral health to.
If you have any questions about how to prevent cavities, we can be reached at our website or by phone at (503) 640-6565.