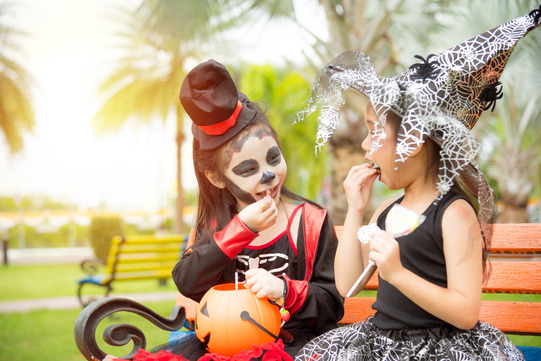 Families across the country look forward to Halloween and all the festivities that come with it. Carving pumpkins, dressing up in costume, and going door-to-door for candy are just a few exciting seasonal traditions. Unfortunately, the number of treats that kids acquire during this time of the year can wreak havoc on their smiles. You can use this as an opportunity to teach children about the importance of healthy teeth and making good choices. In this blog post, you'll learn a few tips to keep your child cavity-free this Halloween.
Practice Good Oral Hygiene
Brushing twice a day and flossing every day are important year-round. However, these practices are especially crucial during the holidays. If you want to keep your child's teeth safe from Halloween candy, you should get them into the habit of practicing good oral hygiene. Sweets can easily get stuck between teeth, which is why you need to make sure your child brushes and flosses after indulging. You can try using an app that will make it more fun, track their compliance, and educate them about oral health.
Avoid Sugary Beverages
There are endless opportunities to indulge in sweet foods during the holiday season, especially on Halloween. Luckily, you can counteract the extra sugar by encouraging your child to reach for plain water whenever possible. Not only will it keep them hydrated, but it has the added benefit of washing away residual sugars.
Timing Matters
Most children are tempted to snack on their Halloween candy all day long. Unfortunately, allowing your child to graze on their teeth will increase their risk of cavities. You can help keep their smile safe by letting them have a few pieces after a meal.
Offer Sugar-Free Gum
Sugar-free gum is an excellent way to prevent cavities! It helps stimulate saliva production, which washes away plaque and residual sugars from your child's mouth. Additionally, it neutralizes the harmful acids that cause tooth decay.
Limit Certain Types of Candy
The longer candy stays in your child's mouth, the more harmful it is to their oral health. For that reason, you should limit certain types of Halloween candy as much as possible to keep your little one's teeth safe. Some examples include sugary gum, caramel, gummies, taffy, and lollipops.
Don't forget to prioritize your child's oral health this Halloween. With these tips, your little one can enjoy the spooky season to the fullest while simultaneously keeping their smile healthy!
About the Practice
At The Dentists at Orenco for Kids, we're dedicated to ensuring the brightest smiles for children and families. Through our experience, we've gained valuable insights into providing essential oral healthcare for kids. Dr. Michael Royse, a board-certified pediatric dentist, also holds the esteemed position of Head of Pediatric Dentistry at the United States Naval Dental Center in Naples, Italy. You can have full confidence in entrusting your child's oral health to him. Should you have any questions about cavity prevention this Halloween, feel free to reach out through our website or by calling (503) 567-1288.